For years, telemedicine has grown in popularity, particularly for people who do not reside close to clinics or hospitals. Like so many other things, the pandemic's societal alienation accelerated the development of telemedicine techniques and advancements. Virtual appointments are becoming increasingly popular, and patients may quickly transfer their medical information from one practitioner to other thanks to digital medical records.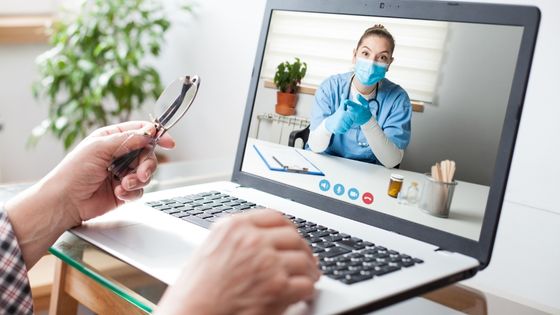 What is Telemedicine?
Telemedicine provides medical care virtually, and it typically makes use of video conferencing. However, some medical professionals prefer to communicate with patients via email or phone.
Patients and doctors alike can use telemedicine for:
Determine whether the patient needs in-person treatment.
Provide specific medical services, such as mental health counseling and evaluations for mild diseases.
Provide specific forms of online therapy, such as speech and physical therapy, and write or renew prescriptions.
Telemedicine can be helpful when a patient must maintain a certain physical distance or cannot physically visit a hospital.
Some Important Facts about Telemedicine
1. Multiple Types of Telemedicine
There are various forms of telemedicine, including:
Real-time video communication
Remote monitoring, which includes the reporting, gathering, and assessment of health information, including blood pressure, cardiac stats, oxygen levels, and respiratory rates.
Stored and forwarded, which includes CAT scans, MRIs, X-rays, pictures, videos, and text-based patient data.
2. Multiple Fields in Telemedicine
According to experts, telemedicine is employed differently in many areas of medicine, including:
Telestroke: To communicate with emergency physicians remotely and eliminate the need for on-site neurologists, specialists use telemedicine in emergency rooms. This addresses the neurologist scarcity that many hospitals are experiencing.
Teleradiology: Clinicians transmit photos and reports from in-person or telemedicine exams to a distant radiologist, who sends their findings to the doctor or another healthcare provider.
Telepsychiatry: the practice of having face-to-face communication with a psychiatrist over the phone or video conference.
3. Licensing
People can receive telemedicine from qualified doctors. According to several states, patients and their doctors must reside in the same territory. However, because of the epidemic, some regulations have been relaxed. For example, real-time engagement platforms now require that the doctor be licensed in the state where the patient is currently located.
4. Accessibility
Telemedicine is accessible to anyone in need of medical care. Those who are:
Living in a remote or rural area
Being a member of the vulnerable population
Being bedridden and homebound
Being constrained by busy schedules
All these people may notably profit from this.
5. Mainly Used for General Illnesses
The ongoing effects of flu season and the common cold on the populace include sinus infections, fever, body aches, coughing, and other respiratory problems. Although these illnesses aren't thought to be life-threatening, they can cause patients a great deal of discomfort. Here comes telemedicine urgent care.
More patients than any other condition use telemedicine, with visits for sinusitis making up much of all telehealth visits. Without having to drive to a doctor's office, telehealth can assist patients in receiving care without an in-person consultation, allowing them to get rid of their cold or flu as quickly as possible.
This might be because this concept is still new, and there may be a general distrust around telemedicine. It isn't necessarily being used for intense conditions but rather for illnesses that bring them general discomfort compared to fatal diseases.
Benefits of Telemedicine
1. Greater Access to Healthcare
Telemedicine can aid in enhancing access to care, particularly for patients in remote and underdeveloped locations.
2. Better care continuity
By allowing patients and their healthcare providers to communicate more frequently and regularly, telemedicine can help improve treatment continuity.
3. Cost-cutting
By minimizing the need for travel and lodging for patients and healthcare professionals, telemedicine can aid with cost savings.
4. Versatility
More flexible appointment times and locations may be available with telemedicine.
5. More Practicality
Patients may find telemedicine more convenient because it allows them to receive treatment in the convenience of their own homes.
Drawbacks of Telemedicine
1. Lack of Regulation
The practice of telemedicine is subject to few regulations so far.
2. Privacy and security issues
With more virtual sessions and internet usage, data privacy and confidentiality will always be an issue.
3. Technical difficulties
Telemedicine equipment may experience technical issues.
4. Restrictive access
Due to the limited availability of technology, telemedicine may not be accessible to all patients.
5. Disparate access
If telemedicine is only accessible to patients who can afford it, there may be unequal access to it.
Conclusion
Naturally, not all medical consultations should be conducted via telemedicine. Some cases need emergency in-person care. But because telemedicine requires fewer resources from the doctor, patients are more inclined to request immediate appointments and have low wait periods.