To turn your videos taken with a mobile phone or an amateur camera into a presentable video that you will not be ashamed to show your friends and acquaintances, you need to edit the source material. To do this, many free video editors work for both Windows and Mac. But if you do not want to install one of these applications on your computer, then, in this case, you can find a way out. Today, even resource-intensive operations such as video editing can be performed directly from the browser.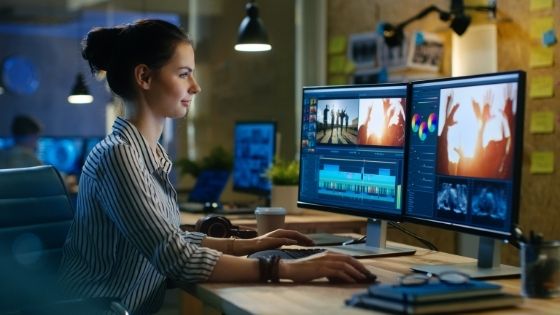 Many modern online video editors differ little in their functionality and capabilities from applications installed on a computer. At least for home video processing, they are quite suitable. And today, you will see for yourself by reading the roundup of the best online video editors freely available on the Internet.
Toolkit: All the best online video editors
Animaker
With Animaker anyone can create pro-level animated or live-action videos in minutes with zero-level experience. This tool has a massive library of 1000s of pre-made templates that will perfectly fit any occasion. It also has 100 Million+ stock assets, 70K+ Icons, 30K+ music tracks, and more.
You can create a video for any use case like business, social media, explainer videos or brand awareness campaigns, slideshow, birthday, thanksgiving, video invite, and more.
WeVideo
WeVideo is one of the most used online video processing applications freely available on the Internet. WeVideo has a wide range of functions. There are, for example, possibilities for editing footage, adding animation, overlaying a voiceover, and green screens. You can control everything in your video: scene transitions, motion effects, and more. Since the processed files are uploaded to the cloud storage, you can access them from anywhere and from any device.
WeVideo is a free editor, but you can connect additional paid functions that expand the application's capabilities if you want. These include custom branding, screencasting, and the ability to add audio tracks from an extensive library of non-copyrighted music.
Promo
Promo is an online and mobile video editor for creators, businesses, and advertising agencies.
You can easily create video content for advertising and popular social networks: Instagram, Facebook, YouTube, LinkedIn, etc. Various templates and a wide selection of tools will help you with this. Anyone can create a professional video in minutes.
Magisto
Magisto turns your amateur videos and photos into engaging, memorable films that you'll want to watch over and over again. After uploading the files, you can choose the best parts of the video or photos, music, additional effects, themes and combine all this into a stunning short film. This web app has all the editing tools you need to make your video better.
YouTube Editor
YouTube has its own video editor with good functionality. You can select a video from your channel, combine it with other videos or photos, and add text and animation to create a new masterpiece. It is possible to add background music from the collection of non-copyrighted songs to the video.
Kizoa
Kizoa is another sound online video editor. It is easy to use, but it offers various functions, including cutting video into clips, combining videos and photos, applying special effects and transitions, working with animations, and overlaying background music. Hundreds of templates and customizable options available here will make your work easier and the result better.
FileLab Video Editor
FileLab is quite an interesting online video tool. You can cut, split, merge, rotate, and move video clips with it. In addition, you can apply one of two dozen video effects such as Old Movie, TV Simulation, or Pencil Sketch. It is possible to add animated text and music to create a high-quality video.
PowToon
PowToon is very different from the other online video editors reviewed in this roundup. Whether you need to make a presentation in the form of an animated video that will serve as training material, advertise a new product, or visually explain some difficult concept, you have to try PowToon. This application allows you to make presentations with the help of cartoon characters superimposed on a colorful background.
The main drawback of the service is the limitation of the video duration to 45 seconds. If you want to create a full-length animated film, you must use the paid version.
Wideo
Wideo is another straightforward and easy-to-use online editor with a good set of tools for creating and editing videos. The execution provides its users with a library of multiple elements: drawings, animated characters, photographs, fonts, sounds, music. There are no restrictions on using the design elements available on the site. You can, of course, upload your videos and photos to create your personalized video.
Design Wizard
The Design Wizard is an excellent choice for creating high-quality videos. You can create videos for business promotion, event announcements, and more. The service has a set of videos with TV ad quality. It is an excellent utility for creating and editing videos for social networks, presentations, and websites.
FlexClip
FlexClip is a handy platform for quickly creating and editing videos right in the browser. The service offers a wide range of stock media, including hi-res photos, royalty-free videos, and music. You can also upload your clips, pictures, and music.
With FlexClip tools, you can easily create your desired video. Add text, animation, logos, and more.
InVideo
InVideo is an online video editor with 1000+ templates for quick video editing. The difference between this service and alternatives is creating a video from the finished text, and you can quickly create a video for a specific social network.
Veed
Veed is a simple online video editor ideal for social media content creation. With the help of the services, you can record, edit and process videos professionally to promote your business or brand.
The recording supports a screen or webcam, and in the editor, you can modify video calls from Zoom or add sound waves to video podcasts. It is also possible to add logos and subtitles.
Motionbox
Motionbox is an online video service that offers many valuable tools that make it faster and easier to get the final result.
It contains an extensive library of video editing templates that you can use as a starting point. There are tons of fonts and stock video, audio, and photo data.
Motionbox is easy, thanks to its user-friendly design, to quickly transfer elements. It also has a music visualize, GIF editor, video cropping tool, scheduler, and more.
Conclusion
Now that you have learned all the best video makers on the market, you can try all these and choose the one for creating your videos. Hope you can make an attractive video with these tools.