In the world of cyber-security; McAfee is a well-known name. McAfee is one of the top antivirus vendors which provide numerous advanced features for device and data security. McAfee provides antivirus suites for various Operating System platforms such as for Windows, iOS, Android, Mac, etc. It also provides multi-device and multiplatform antivirus plan where you can secure your numerous device such as Windows PC, MacBook and Android cell phone simultaneously. Along with malware detection and removal features; it also provides features which help to keep your data safe such as firewall, VPN, data shredder, etc. But as you know, no technology is perfect. McAfee provides a safe and secure interface to work on but you may face some errors while using McAfee antivirus. McAfee Error code 0 is one of the common errors which you might get will installing this antivirus on your system.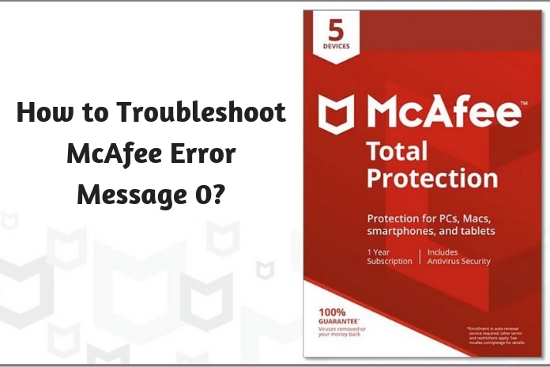 If you encounter this error, you may have to face issues while working on your device. If you don't want to compromise with your device security then you must have to fix this error instantly. The first step for fixing this error is to find the reason behind getting McAfee Error 0.
Here are some reasons which may get you into McAfee Error code 0:
Your installation process gets interrupted due to some reasons.
Corrupt download files of the incomplete installation process of McAfee antivirus.
Malware has infected your device and interrupting your installation process.
The Windows Registry gets corrupted due to some recent changes.
You have deleted McAfee related files mistakenly.
Your program files get corrupted.
There are various other factors which can lead to McAfee Error Code 0. When you encounter this error; your current running program with getting stopped and McAfee Error 0 will be displayed on your screen. Your input devices such as your keyboard and mouse may start responding lately.
Steps for troubleshooting McAfee Error Code 0
The most common reason for this error is corrupt installation. If you are getting this error due to corrupt installation then reinstalling McAfee antivirus can help you out. Follow the steps mentioned below for reinstalling McAfee antivirus on Windows 7 and Windows Vista:
Click on Start Button
Choose Control Panel
Click on Programs
Go to Programs and Features
Click on Uninstall a Program
Search for McAfee antivirus from the list
Hit the Uninstall button
Now follow the on-screen commands to uninstall McAfee from your device.
Follow the given steps for removing McAfee from Windows 8:
Take your mouse to left side for producing Start menu
Go to Start Context Menu
Hit the Programs and Features button
Search for McAfee Antivirus
Click on Uninstall button
Follow the on-screen commands for uninstalling McAfee.
Ensures that no McAfee related files are stored on your device. Restart your device and then provide a fresh McAfee installation. Check whether you are still facing the same error. If you still encounter with McAfee Error 0; you are getting this error due to some other reasons. Contact McAfee and get professional support for fixing your McAfee error code 0.