Malwarebytes is one of the top antivirus programs that offer advanced tools and services for securing your device from various threats. Many people voted Malwarebytes as the best anti-malware program because it is very light weighted. The system impact after installing Malwarebytes antivirus is very less than other antivirus programs. It has very advanced and fast virus detection and removal rate. Malwarebytes also provides a free-antivirus suite but if you want to access advanced tools like URL protection, anti-ransomware, VPN, secure browsing tools, etc then you can upgrade your antivirus plan.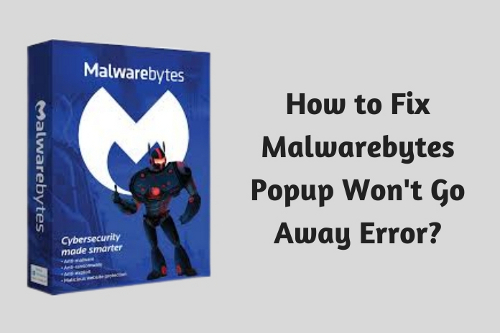 Malwarebytes is a robust antivirus in which you merely find any kind of error. It runs perfectly on every platform and provides good network and device security. If you are using the free version of Malwarebytes then after a time you will start getting update pop-ups like:
Buy an upgrade
Your protection has been disabled
Premium trial expired
Malwarebytes anti-exploit
You will receive these pop-ups until you upgrade your antivirus otherwise Malwarebytes notification won't go away. If you don't want to upgrade the antivirus plan now also don't want to face these bothersome pop-ups then you can use various methods for preventing Malwarebytes pop-ups.
Method 1 to block Malwarebytes anti malware notifications
The basic fix for this issue can be turning off notifications for the Malwarebytes. Follow the steps mentioned below:
Open your device
Click on Malwarebytes icon
Malwarebytes dashboard will open on the screen
Go to the settings
Click on the application tab
Turn off notify me when version updates are available toggle button (For Malwarebytes turn off update notification)
Turn off show Malwarebytes notifications in Windows tray toggle button (It will turn off the system tray notifications)
Turn off show notifications when real-time protection settings are turned off toggle button (It will turn off protection settings notifications)
The steps mentioned above will block Malwarebytes popups.
Method 2 for temporarily disable Malwarebytes Premium
Your Malwarebytes by default starts when you boot your Windows. Whenever the application starts, it sends the updates. If you want to get rid of Malwarebytes notification then follow the given steps:
Open your device
Open your task manager (Press Control+Alt+Delete keys to access task)
Go to the startup tab
Search for Malwarebytes
Right-click on Malwarebytes and hit on disable button
This will disable all the Malwarebytes popup. If Malwarebytes reboot required then you can enable it.
How to stop pop ups from Malwarebytes method 3
You will get these popups until you are using freeware. If you want to get rid of Malwarebytes upgrade pop-up then you should go for the premium trial. This is a free Malwarebytes upgrade trial for 30 days. If you like the Malwarebytes premium protection then you can buy it. If you don't go for the upgrade plan then your antivirus will revert to freeware. Here are the steps for opting out premium trial plan:
Open your device
Click on Malwarebytes icon from the desktop
Go to the settings
Click on the account details tab
Click on deactivate premium trial
Now hit the yes button
With this step, your Malwarebytes premium trial will change to freeware and you will not have to see upgrade popups frequently.
How to stop Malwarebytes update pop ups on Mac devices?
Malwarebytes also provide excellent security features to Mac devices. But if you are using freeware then you will also have to face the same issue of popups like other devices. If you want to stop Malwarebytes popup notifications on Mac then follow the steps mentioned below:
Open your Mac device
Click on Apple icon
Go to system preferences
Tap the notifications icon
A list will appear on the screen
Search for Malwarebytes
Click on Malwarebytes agent
Click on none
With the steps mentioned above, all the popups, notifications and alerts from Malwarebytes will stop on your device.
You can also uncheck other notifications from the option as well like lock screen, badge app icon, notification center, etc. Once you uncheck all notification then you will not see any notification from your Malwarebytes anti-malware.
Malwarebytes won't open 2021 error
Many people reported that their Malwarebytes is not opening. This error can occur due to various reasons like corrupted program files, deleted Windows files, driver error, etc. Here we have mentioned the top solutions for fixing this error.
Rename mbam.exe to explorer.exe
You can only rename the file name if you have administrative permissions. Once you rename the file then you can easily scan your device. Here are the steps for renaming the file:
Go to C: Program FilesMalwarebytesAnti-malware
Right-click on mbam.exe and click on rename option
Now rename your mbam.exe to explorer.exe
Once you rename the file then try to run and scan your device.
Run Malwarebytes Chameleon
If your Malwarebytes antivirus is not working normally then you can use Malwarebytes Chameleon. It is the inbuilt utility to start Malwarebytes when it is not executing on normal conditions. Once you run Malwarebytes Chameleon; run the scan and remove all the issues. Now you can easily execute your Malwarebytes antivirus. Here are the steps for running Malwarebytes Chameleon:
Open your device
Click on Malwarebytes anti-malware
Malwarebytes dashboard will appear on the desktop
Go to tools
Click on Malwarebytes anti-malware Chameleon
DOS windows will appear on the screen
Hit enter button to continue
Your Malwarebytes anti-malware suite will automatically appear on the screen
Provide a full system scan and restart your device.
Try running Malwarebytes as admin
Sometimes this anti-malware also gives your error when you are using a guest account. Open your admin account and then try running Malwarebytes anti-malware.
If still, your antivirus is providing you errors then you should try running your Malwarebytes anti-malware in safe mode. Your many errors can easily get fixed by opening applications in the safe mode.