Whenever we ask about antivirus with low system impact and good performance then Malwarebytes is the most recommendable product. If we compare this product with other antivirus programs; it uses less amount of memory and offers excellent security features. Malwarebytes provides reliable security and compatible with all popular Operating Systems. But some people reported that they are facing Malwarebytes Not Opening error. You can get this kind of errors due to various reasons such as OS issues, device issues, error in registry files, deleted program files, etc. But most of the people reported Malwarebytes Not Working on Windows 10. You can get this error due to corrupted files, corrupted installation, or an incompatibility issue with Windows 10.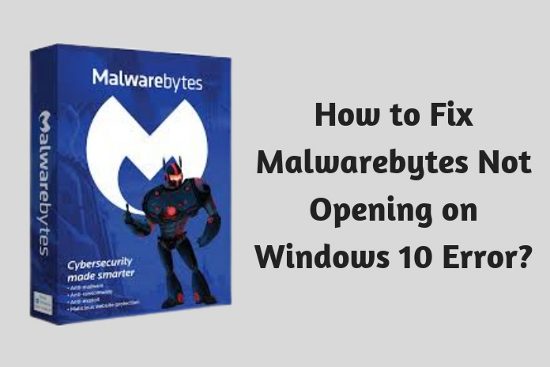 Here are some reasons which can lead to Malwarebytes Does Not Open Windows 10 error:
Corrupt installation of Malwarebytes setup
Corrupt installation can occur due to various reasons such as incomplete download, mistakenly deleted program files, etc. The best way for fixing this error is by uninstalling Malwarebytes and then providing a fresh installation. Follow the given steps for uninstalling Malwarebytes for the device:
Go to program and features
Search for Malwarebytes from the list
Now click on uninstall button
Wait for completing the Un-installation process.
Restart your device
Provide fresh installation for troubleshooting Malwarebytes not launching error.
Go to Malwarebytes and download Malwarebytes setup
Wait for completing the downloading process
Go to your downloads and double click on Malwarebytes setup
Select the language
Hit the next button
Now, follow the given on-screen commands for completing the installation process
Click on the Finish button
Restart your device and check whether you are still getting Malwarebytes Not working in Safe Mode error.
You are using an outdated version of Malwarebytes antivirus
You can also get this error if you are using an outdated version of Malwarebytes on Windows 10. If so, then you should update the Malwarebytes as soon as possible.
Click on Malwarebytes icon
Malwarebytes dashboard will appear on the screen
Click on Settings
Go to Application tab
Hit the Application Update button
A window will appear on your screen
Hit the OK button
Click on Yes button
You will get User Account Control Window on the screen
Hit the Yes button
Choose the language from the drop-down menu
Hit OK button
Now click on Agree and Install button
Wait for completing the installation process
Hit the Finish button
Now try to open Malwarebytes. If you are still facing Malwarebytes Not Working after Update error then you should check for other solutions.
You have another antivirus installed on your device
It is possible that Malwarebytes is not Opening in the system because you have installed other security software there. Security software programs can conflict with each other. So, if you have installed any other antivirus program on your device then remove it before installing Malwarebytes. Make sure to remove all related files and folders. After removing other security software program, install Malwarebytes on your system and provide a powerful scan to wash away all malware from your device.
You can also visit direct Malwarebytes website www.malwarebytes.com to complete your setup or call at 1-800-520-2796.