For printers, Canon® is one of the famous names for the printer device. Canon® is a Japanese company which is globally famous for providing top imaging and medical equipment. Canon® manufactures printers, cameras, photocopier, camcorders, medical equipment, steppers, etc. Canon® provides quality devices at good prices. If we talk about printers only; you will get a good number of varieties. Canon® offers printers for big business industries to small users. Canon® provides laser printers, inkjet printers, DMP, IVY pocket printer, multifunctional printer, etc. These printers offer lots of facilities such as good printing speed, smooth printing, Bluetooth and Wi-Fi connectivity, etc.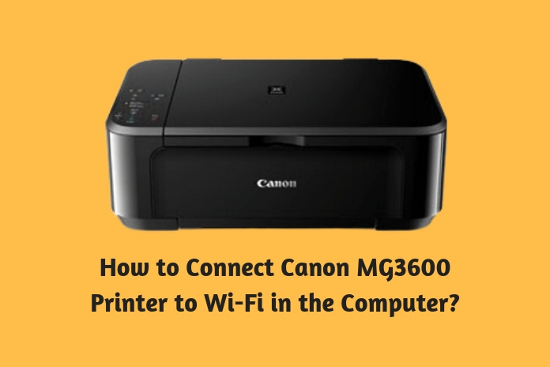 Steps for Canon MG3600 connect to Wi-Fi
Canon® MG3600 is a high-quality printer which provides maximum portability which excellent performance. This printer is designed in such a way that you can save good space in your desk. You can place it anywhere and with advanced wireless technology you can take a print out from the various device. Canon® MG3600 Printer Setup is compatible with various OS devices such as Windows 7, Windows 8, Windows 8.1, Windows Vista SP2, Mac version 10.7.5 to version 10.10. If you have a device other than this then you can use this printer with a USB cable.
Follow the steps for Canon MG 3600 Connect to computer
Standard Connection Method
Hit the Start Setup button in the initial screen display
The program will check for the driver update
If the driver is outdated, the driver will get updated automatically
Wait to complete the updating process
Choose your country
Hit the Next button
You will get a Terms and License button
Read the license carefully and then hit the Accept and agree on button
A dialog box will appear asking for installing the Wizard Process
Tap the Next button
Choose Wireless LAN connection
Hit the Next button
Ensure that your Canon® MG3600 Wi-Fi printer is turned on
Tap the Next button
A setup page will appear
Read the setup carefully and then follow the on-screen commands
Wait until Canon® MG3600 Setup gets discovered
Once installed; click on Next button
After completing the setup; hit the Exit button
With the steps mentioned about you can easily set up a wireless connection in your printer. But in case if you are unable to set up the connection then try establishing a connection with WPS method:
Ensure that your printer is on
Toggle your WPS button to on to access the wireless router
Press the Wi-Fi button and hold it until the flashlight lamps up
Now press the Black button
Press the Wi-Fi button
Ensure that the Wi-Fi lamp gets on quickly and then hit the WPS button instantly
The printer will start flashing blue light
At connection, Wi-Fi light and the power light will continue flashing but when the Canon® MG3600 Wireless Setup gets complete; the light will become continuous
After setting up the connection, try to take a print from your Canon® MG3600 printer. But if the connection is yet not established then you should ask for technical support.

You can also visit direct Canon website www.global.canon to complete your setup or call at 1860 180 3366.